Aug 7, 2023 09:59 PM Central
Beverly Jacobson
Last week my family enjoyed a "staycation" while we hosted some family friends from a couple of states away. This gave us the wonderful opportunity to plan for some activities we may not have prioritized had we not been planning this visit for a few months!
One of our grand adventures (well, probably THE biggest adventure) was going whitewater rafting. While Ted and I had been before, none of our children had, and they were eager and a bit nervous about the new experience. We left the house bright and early to drive the 95 miles and make our 8:30am arrival time. We chose a half-day tour, opting to go before lunch in order to beat the heat.
We couldn't have asked for better weather! It was so beautiful, with a nice breeze and lovely blue skies. (This was a day before we had a tornado watch...! In Colorado!!!) Our guide was enthusiastic and shared plenty of corny jokes as we made our way down the river. Our raft brought up the rear of our 3-boat entourage, which was perfect for splashing our friends, who were in the raft just ahead of us. We enjoyed a series of Class II and III rapids, which were very fun but definitely left all of us wanting MORE! Unfortunately, kids under age 14 were not allowed on the more intense part of the river, but I think everyone had a great time anyway.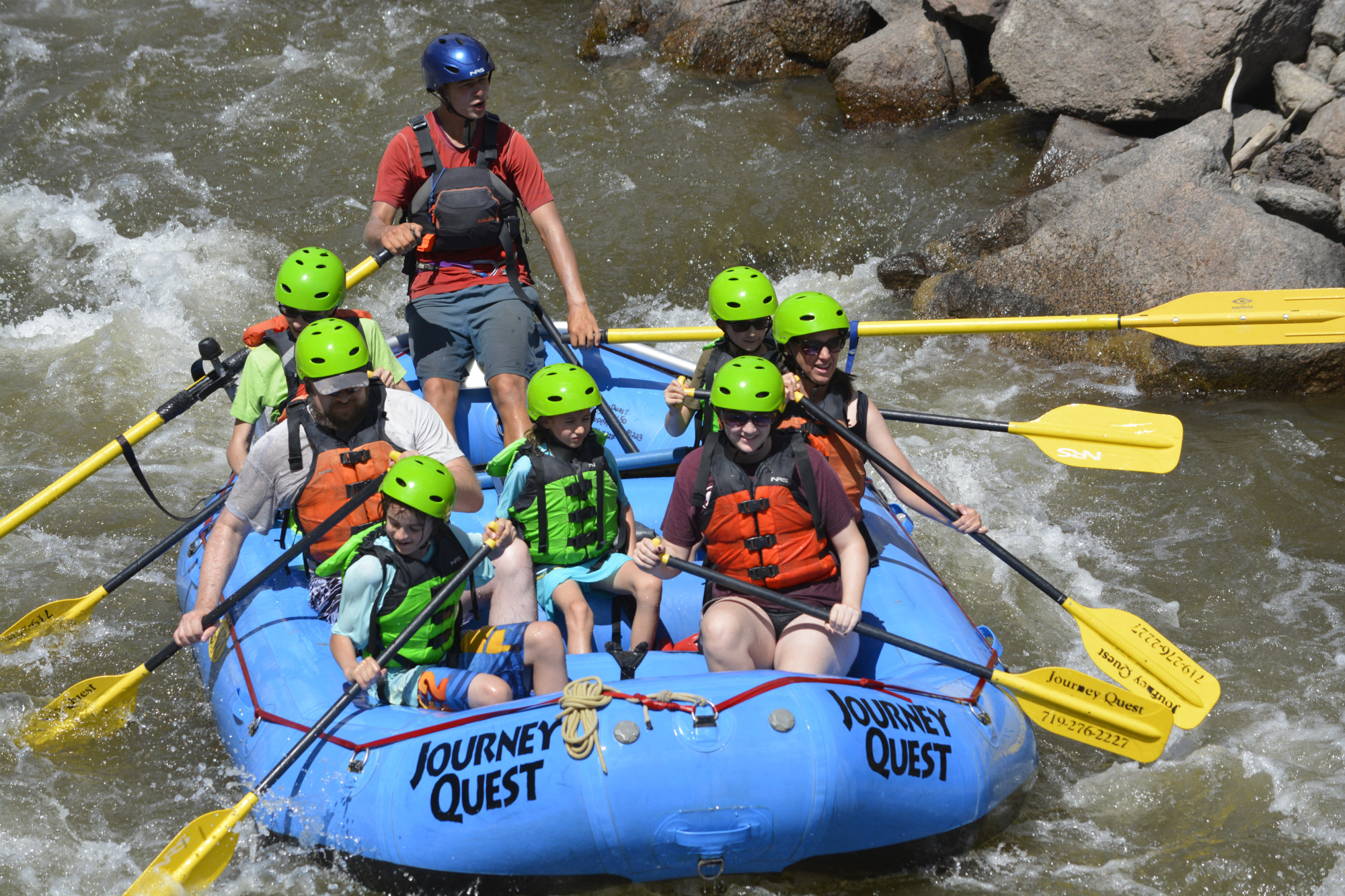 In between the rapids, we enjoyed the beautiful scenery of the Arkansas River as it snaked its way toward the Royal Gorge. Seanin (our 9yo son) was deeply disappointed that the whole ride wasn't whitewater rapids! And that made me contemplate a little life lesson...
We all have "rapids" in our lives: exciting, thrilling adventures and high points that leave us invigorated and energized.
Sometimes those rapids take a turn and become dangerous, even injurious.
We need a loving, all-knowing guide who will travel with us through the good, the bad, the fun, and the difficult times of life. Jesus is that guide...or at least, He is for me. Are you navigating life with a Guide? Or are you trying to steer the boat and avoid the rocks all on your own?
And another aspect to this little life lesson: what do we do in between the rapids? Do we chafe and moan, wishing life could be one big adventure? Or do we look around and notice the beauty of where we are? Not just our physical environment, but also the spiritual beauty of resting, waiting, traveling at God's pace instead of running ahead?
Just some thoughts from our Journey Quest adventure!