07/06/2023 08:55 AM Central
Beverly Jacobson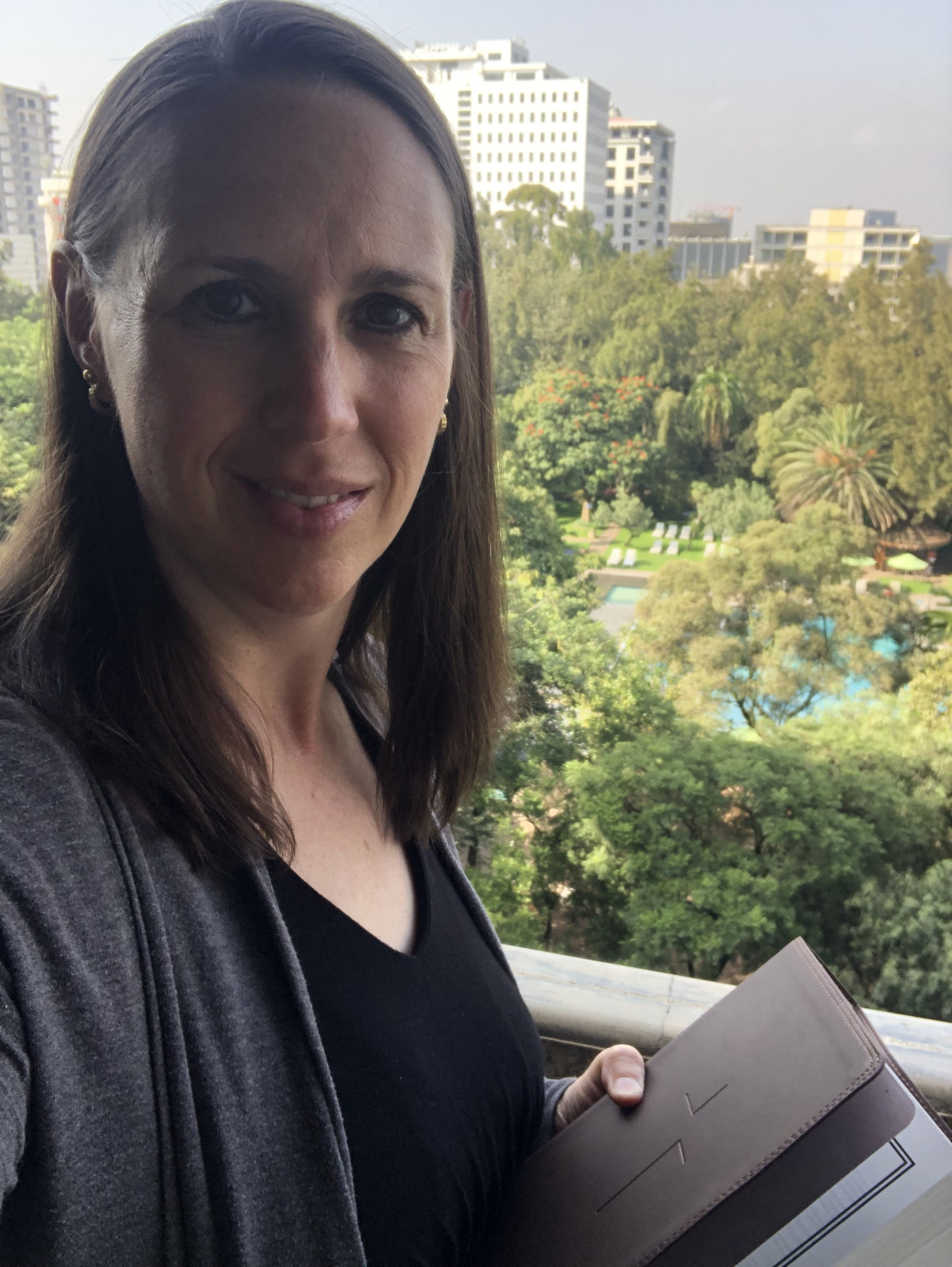 June 24, 2023. This day began with much excitement and a bit of trepidation! A huge event was happening that afternoon: the premiere of the Jesus film in not one but TWO tribal languages. Obviously we ourselves could not be in two places at once! Our team was to go to the village that speaks the language for which one of our team members had provided the financial support for translation and infrastructure work.
After breakfast we packed overnight bags since we wouldn't be returning to Addis Ababa until the following evening. We would spend quite a bit of time in our bus over the next couple of days, which provided many opportunities for conversations and getting to know others on our team better. Once we were finally loaded up (everything takes longer than scheduled, lol), we drove a couple of hours to a resort, where they had arranged for us to have lunch. Below are a few photos from our stop...some of the ladies changed into traditional dresses in honor of the special occasion.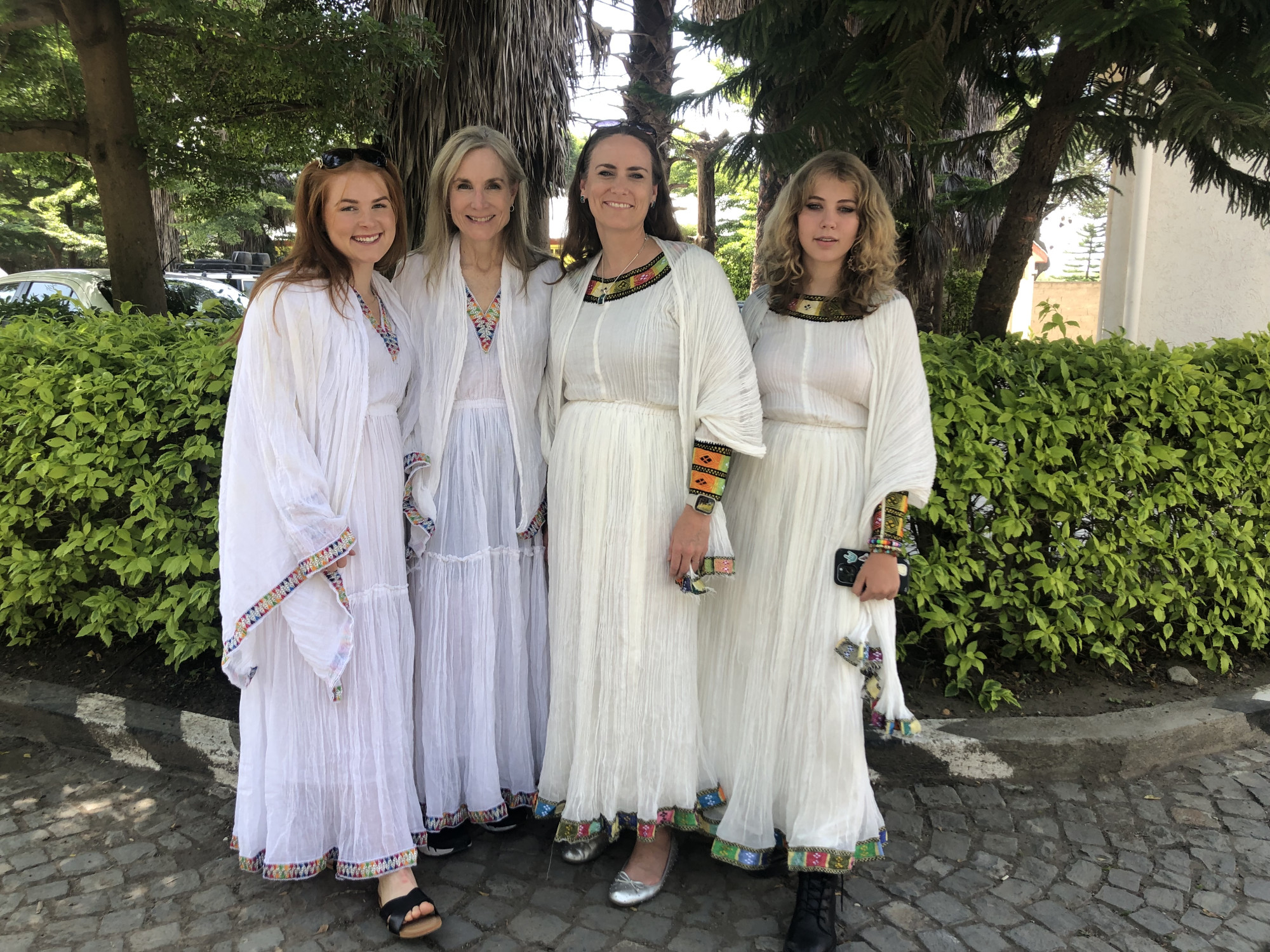 Two mother-daughter duos! Julianne and Loree, Evangeline and Annada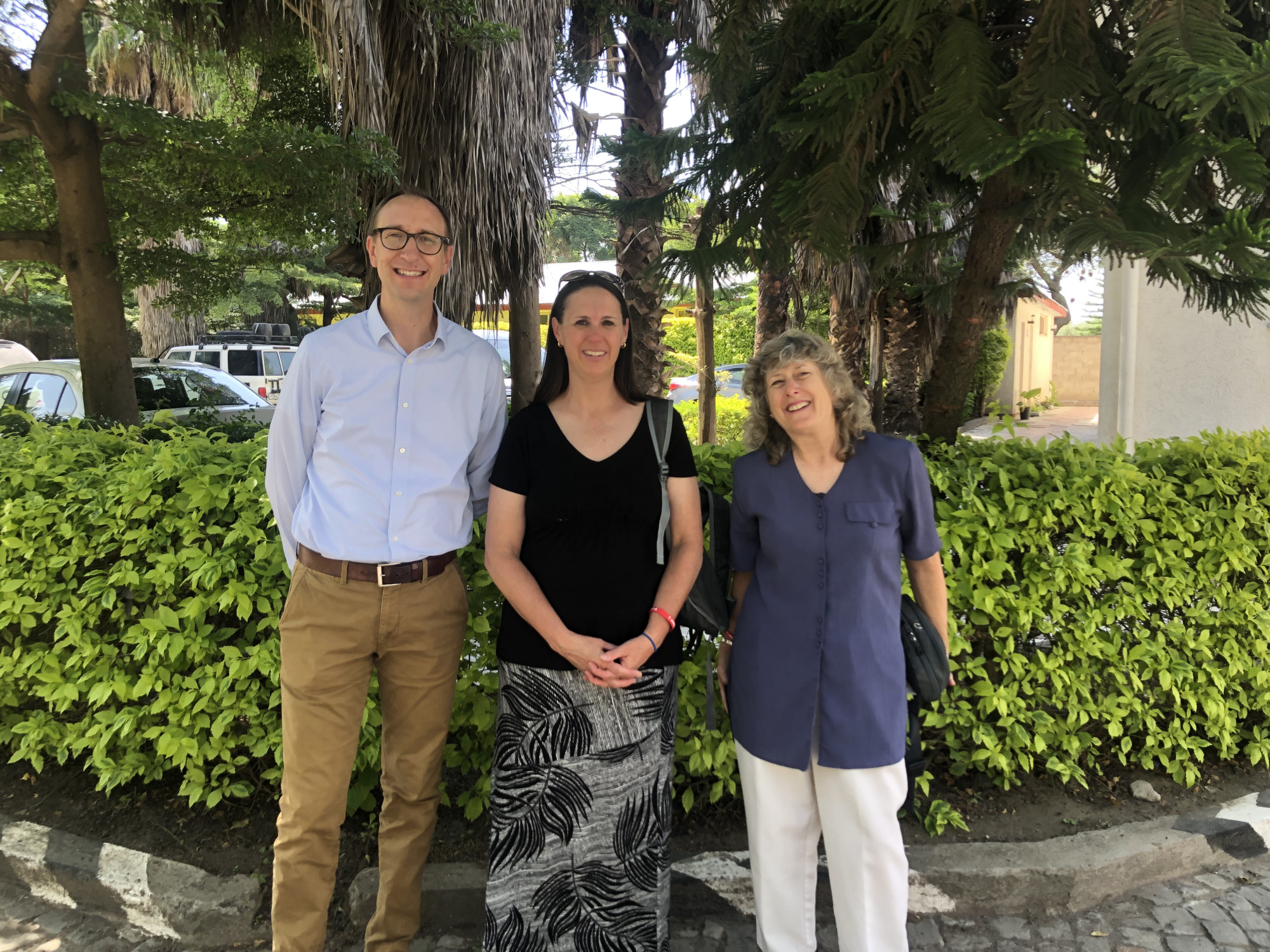 Nate (works with the Jesus Film Project), myself, and Valerie (a long-time supporter of JFP)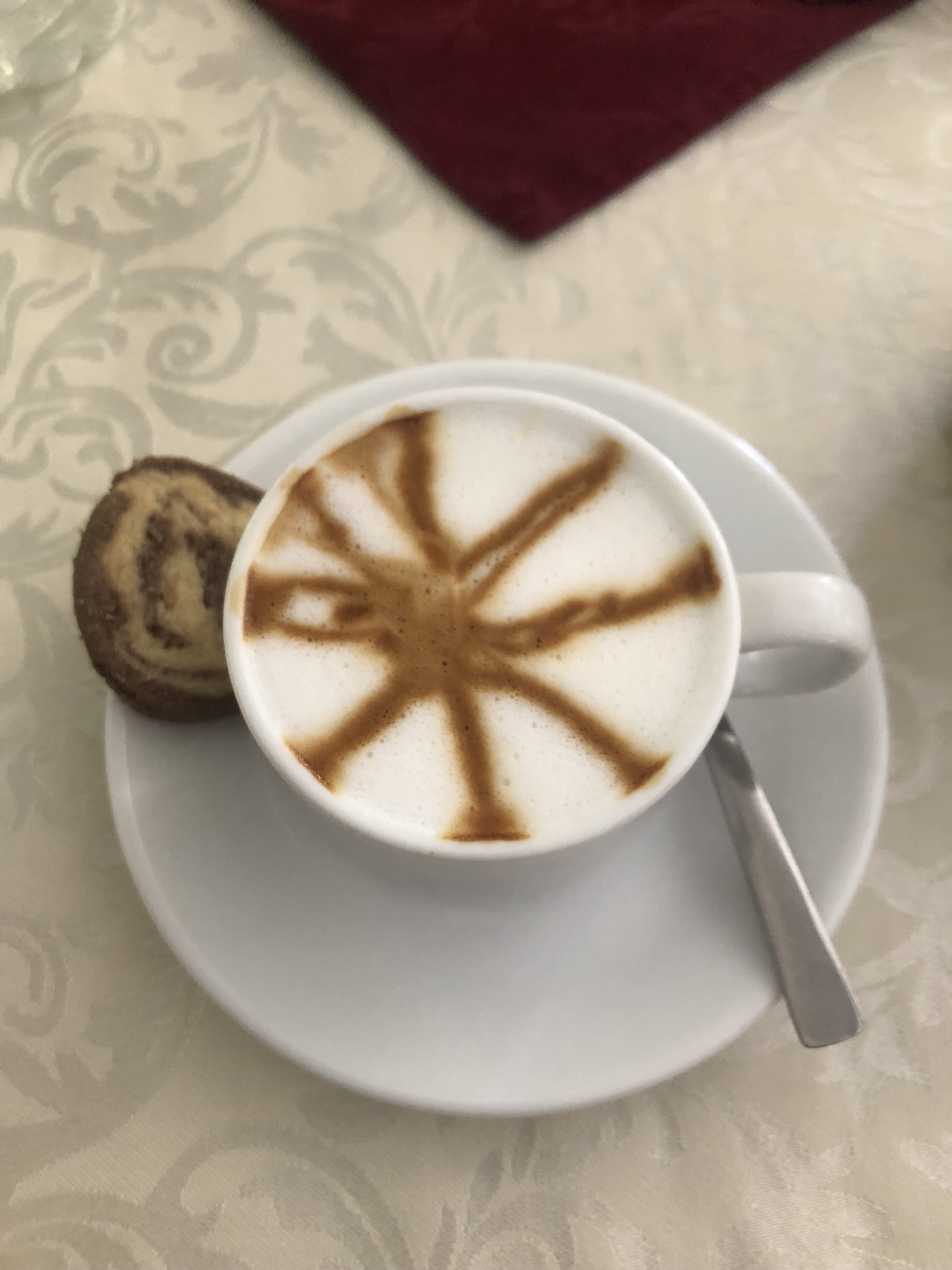 Completely gratuitous photo of my after-lunch coffee. Mmmm!
Following our luxurious lunch, we boarded the bus again. Next stop would be at the Maro village! Two days prior, a nearby church had been burned down with worshippers inside. All precautions were taken. Many prayers went up. Police and military officers, along with many others, met us at the edge of the Maro village to escort us through town to the cultural center. You can see some of our escorts below.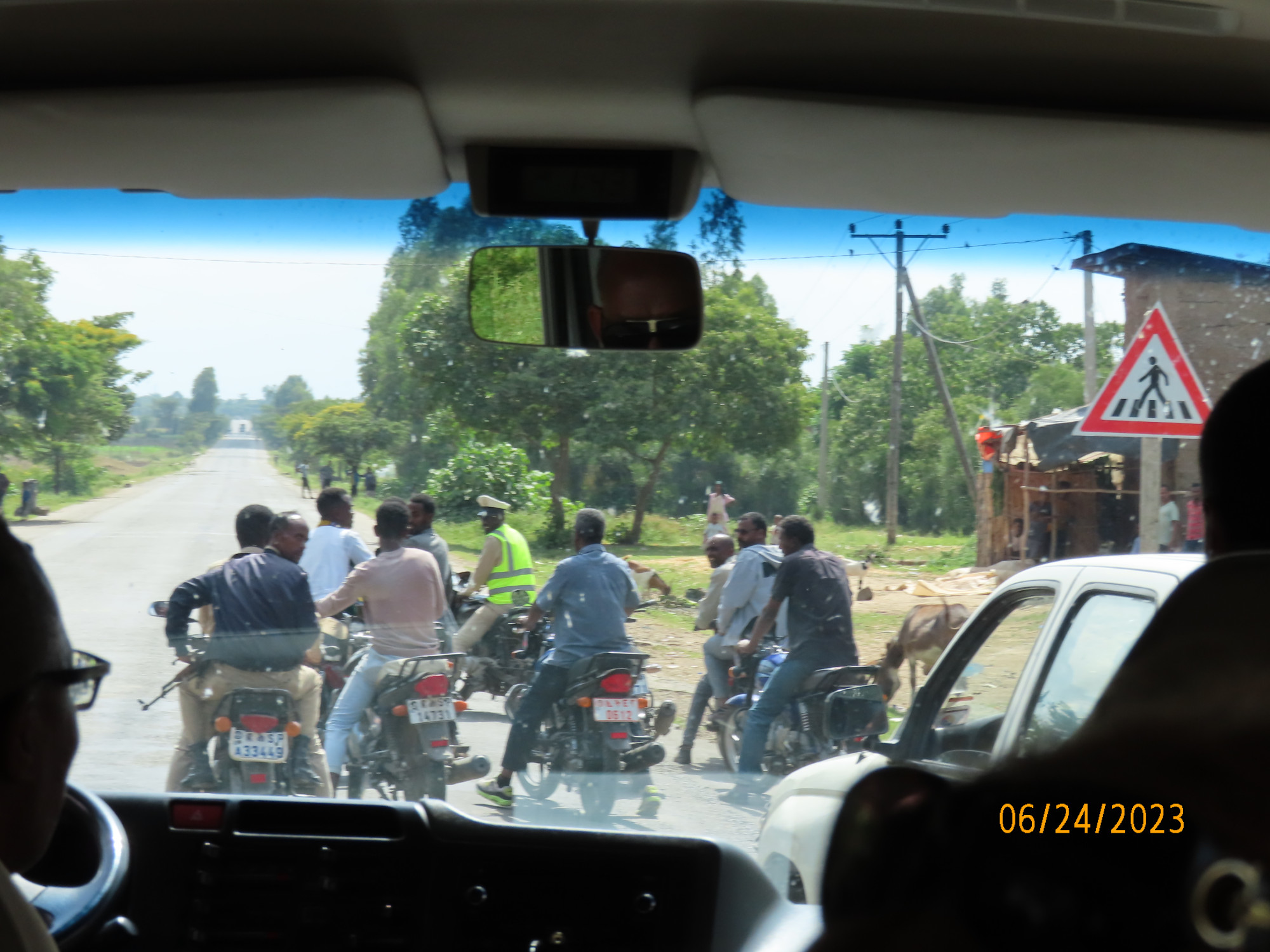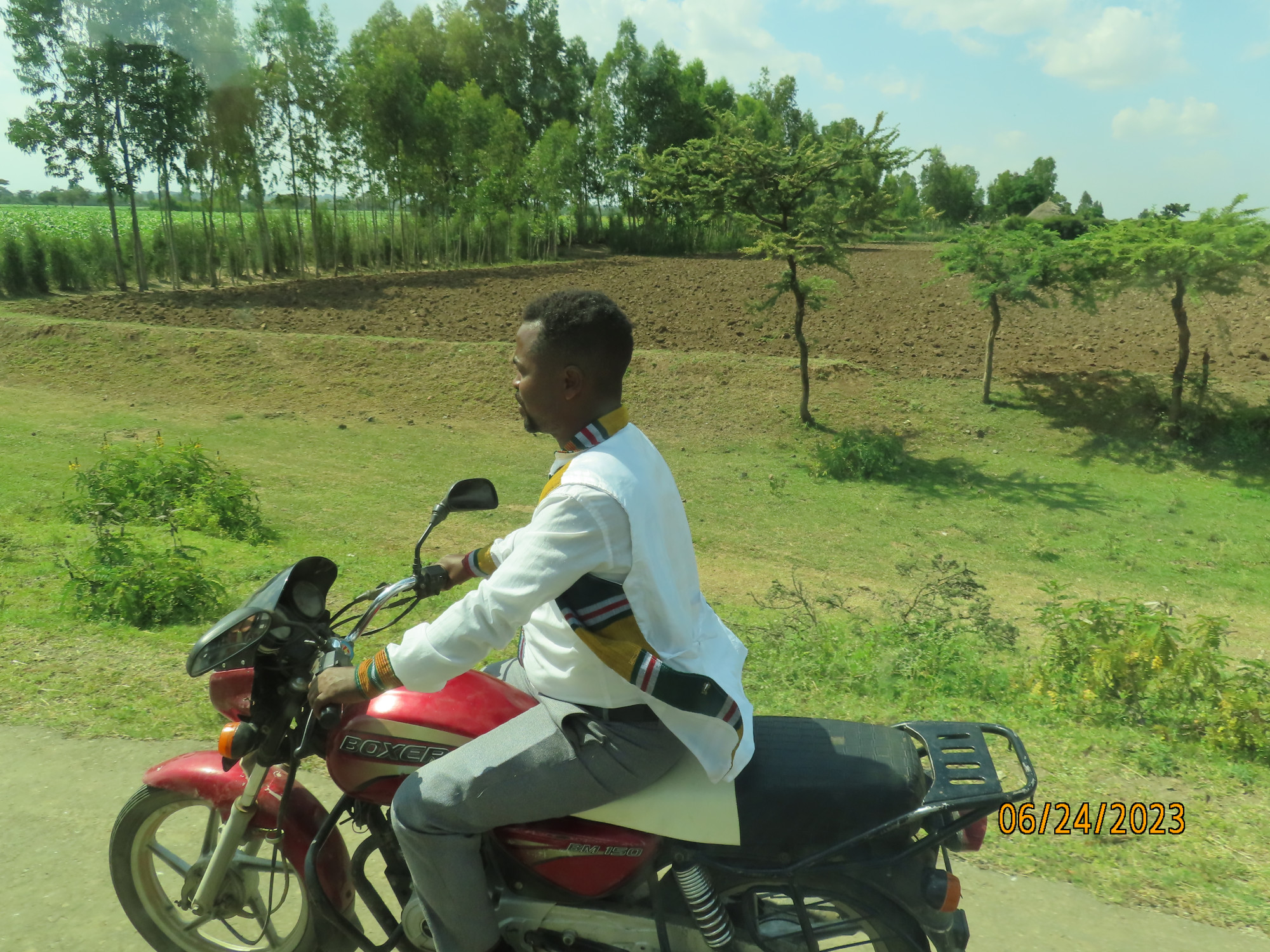 This man is the voice actor for Jesus in the film recorded in his heart language!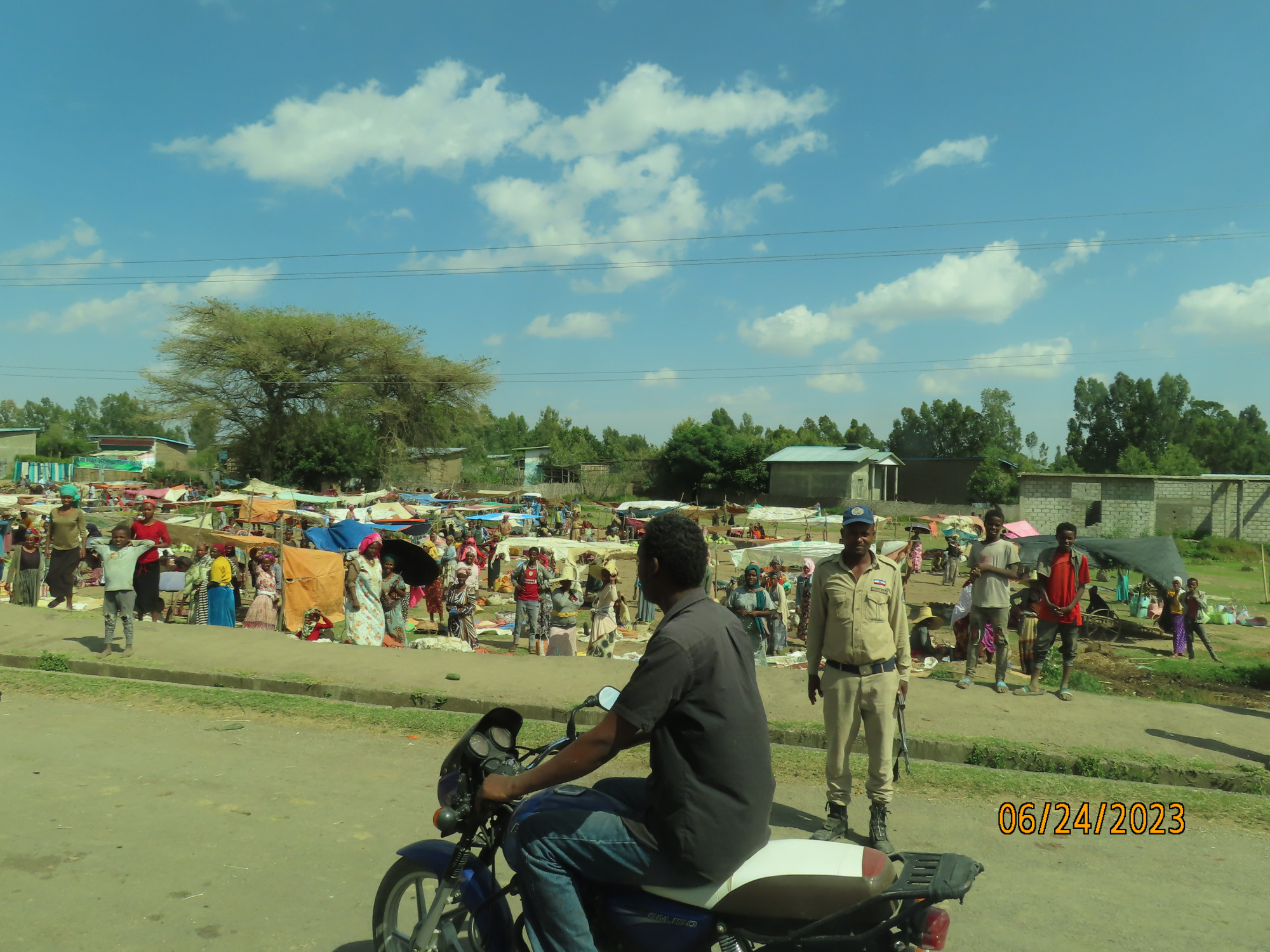 It was like being in a major parade! Everyone was out to see the procession...lots of honking and waving and staring and shouting. It felt so strange, being treated like celebrities. The real heroes are those who invested their time, energy, and resources into making all of this happen. It was a true honor to be present at such a momentous event. Though the community is over 99% Muslim, the fact that the Jesus film was made in THEIR tribal language showed honor and respect to them as a people and culture. It is the first and only film thus far to be made in their heart language. It's hard for us to fathom just what a BIG DEAL this is, what it means to them.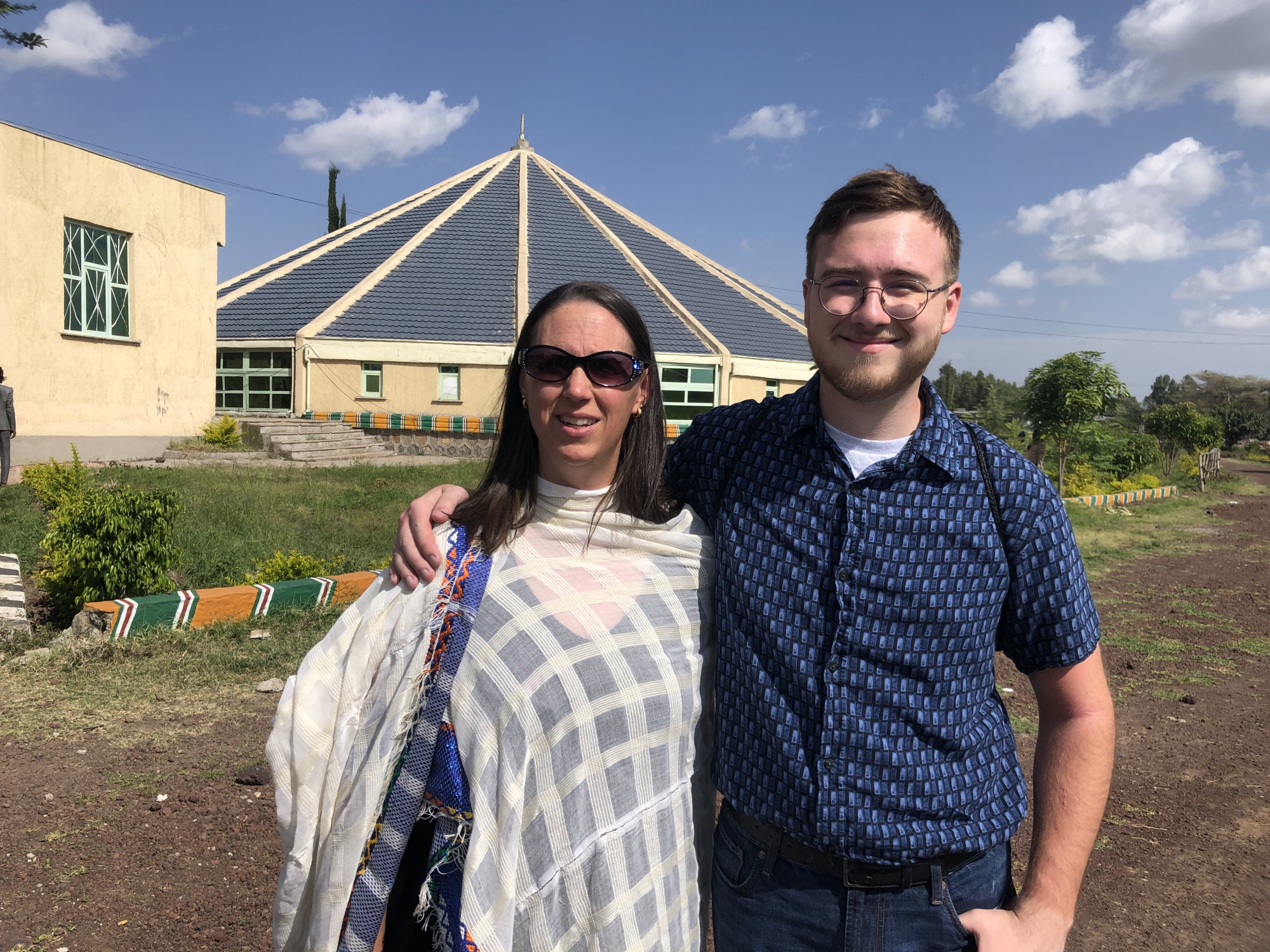 Tobin and I are standing in front of the cultural center, where the film was to premier for the community leaders. I was loaned a scarf to wear, which sweet Etsub had to keep readjusting for me so I could wear it properly! The yellow, green, white, and red that you can see on the railing behind us are the particular colors of this tribe.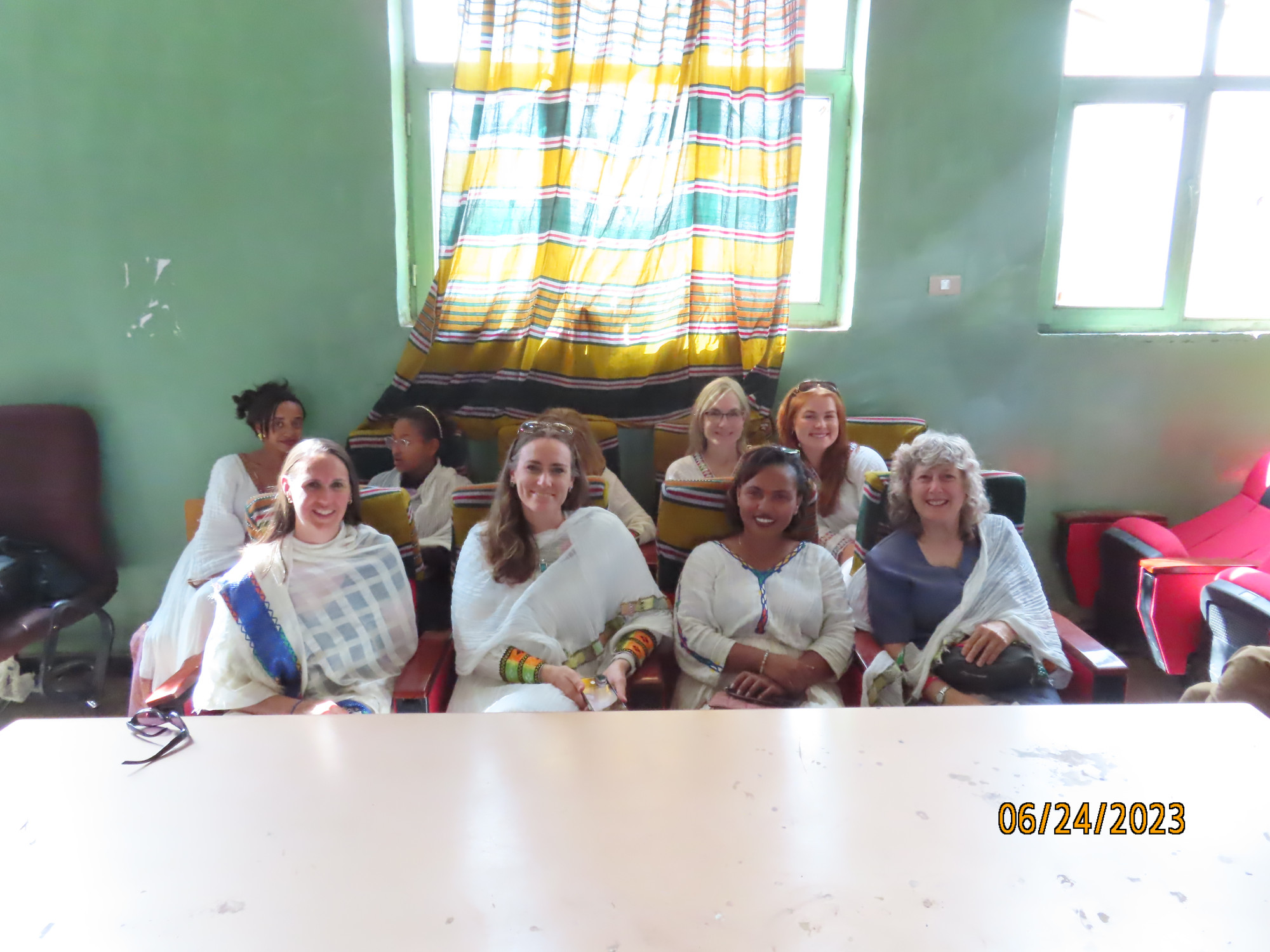 Front row: me, Evangeline, Etsub, Valerie
Back row: Mistre, Mary (I think?), Annada, Loree, Julianna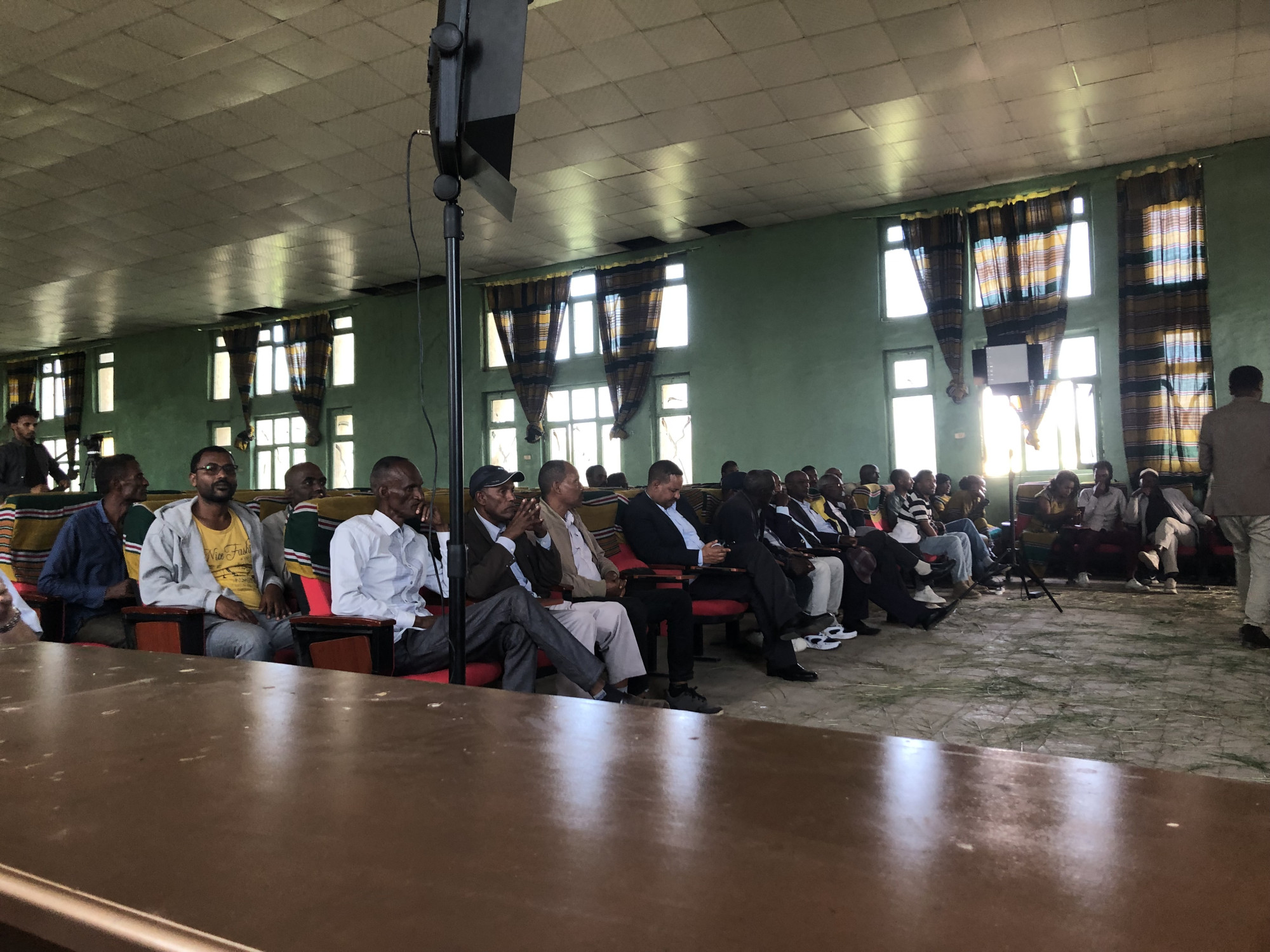 Waiting for the ceremonies to start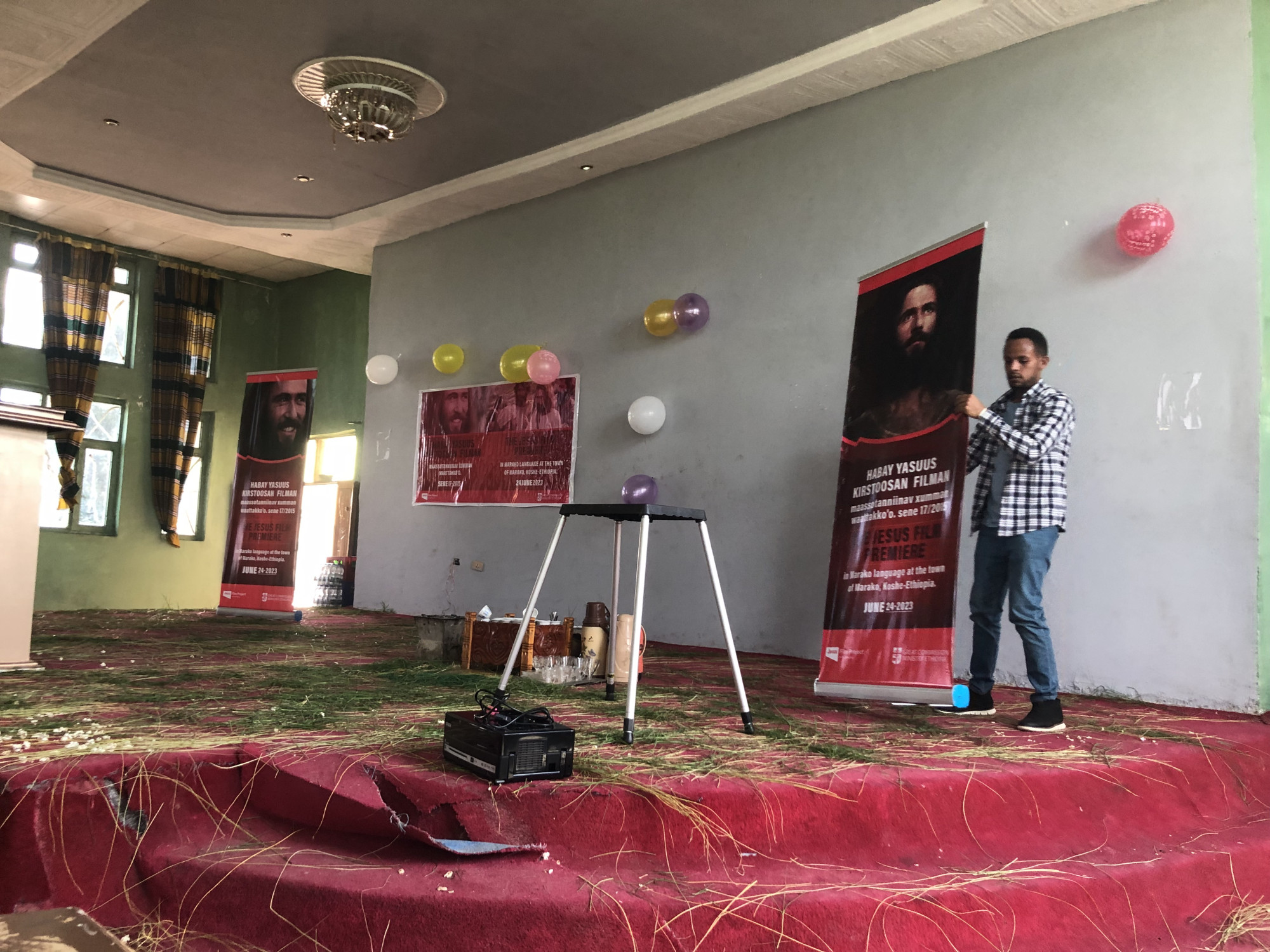 Moving the banner so the film can be projected onto the wall.
(The grasses, by the way, are put out deliberately; it's a traditional welcome.)
So we were in the cultural center maybe a couple of hours altogether. There were many acknowledgements and recognitions, not the least of which was honoring Dean, the man who funded the whole translation! He is a quiet, humble man who likely felt uncomfortable being recognized so publicly. I do think he enjoyed being able to hand out certificates to each of the voice actors who were also in attendance. I can only imagine how emotional all of this was for him, as this was the culmination of a project years in the making.
Not too surprisingly, more time was spent on ceremonial aspects than showing the actual film, though they did show clips! Imagine for these people: for the first time, hearing their own language in a movie! And by the way, if you've never seen the Jesus film, it is a decades-old movie based on the gospel of Luke. As
their website
states, "Not everyone can read or will read the Bible. Jesus Film Project delivers the story of Jesus on film so all can hear Him speak in their language and see His love play out on screen."
Following this time with the community leaders, some of us went outside and spent time with the children, who were curiously watching the proceedings. I did not take any photos at this time, completely caught up in the experience of interacting with so many precious children as we communicated in the universal language of smiles and laughter. Loree did capture a photo of me as we blew bubbles, which were a huge hit and cause for much amazement.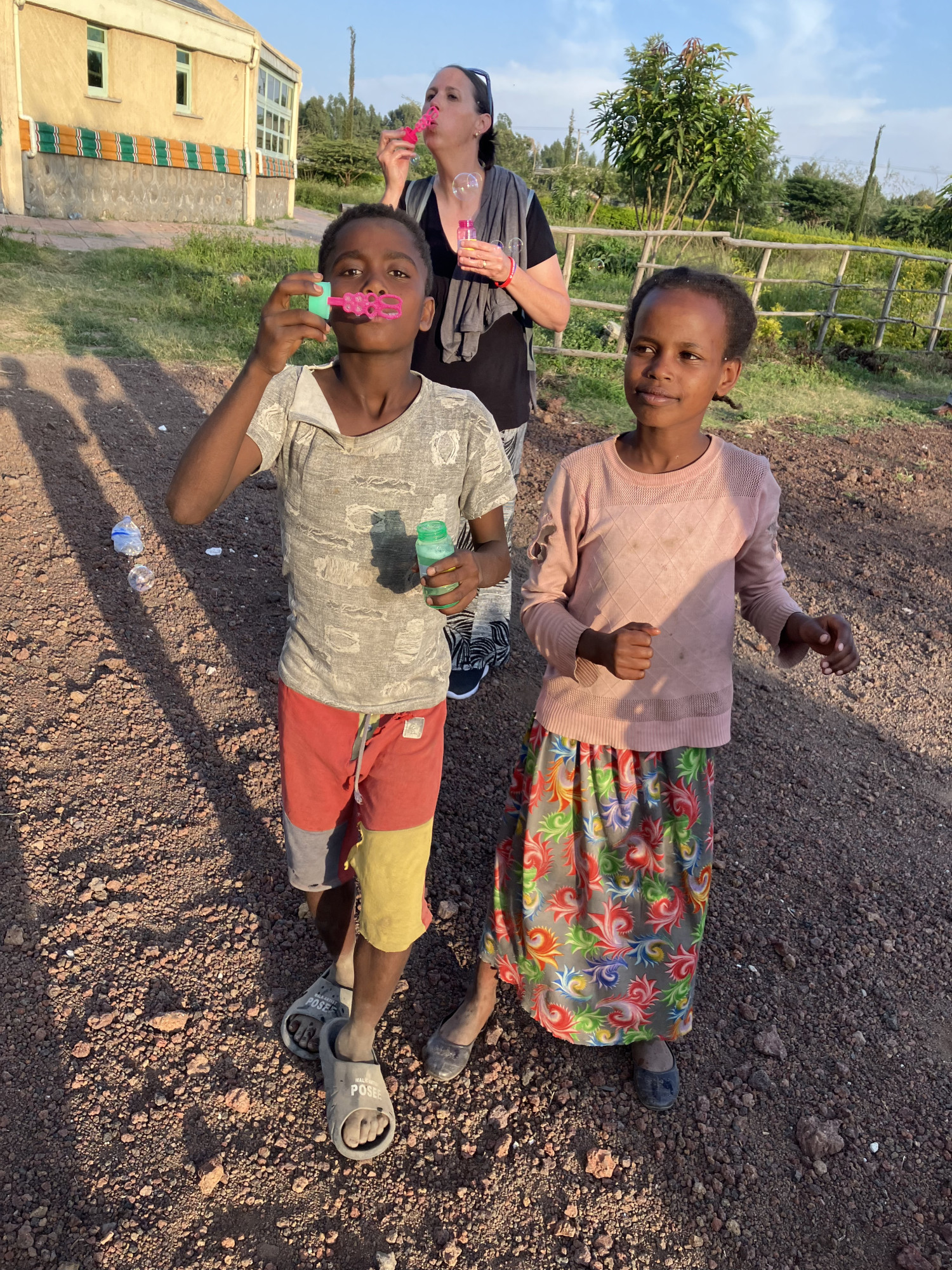 Marc came out after awhile and regaled everyone with some magic tricks! So fun! In this video he's making the kids' hands "squeak."
Meanwhile, Tobin and Evangeline had the opportunity to interview some key players in this project. Tobin is working on a feature for the
World News Group
to air on their podcast
The World and Everything in It.
And Evangeline is on staff with Cru (along with her husband Marc, both of whom we have supported for a number of years). I'll share what Evangeline sent out in her email update that just came out so you can read these amazing details in her own words:
At the premiere I was asked to interview Adelon Uri, 66-year-old man, who had been asking for the Jesus Film in his language and led the translation. Over 30 years ago Adelon saw the Jesus Film while in Bible school in English. Even though Adelon does not speak much English, he very slowly went word-for-word and translated the film into Amharic (the trade language in Ethiopia). THEN he did that again, translating it into his people's language. He went from home to home "under the tree, behind ditches, and under bridges," he said, showing the film by muting the volume and speaking the Gospel of Luke in his language over the film.
This is an extremely Muslim community who persecuted Adelon for talking about Jesus. 5 years ago a militant Muslim group burned down Adelon's home and buildings hoping he would be inside. When he survived they threw him in prison for 3 years.
"I prayed that I would see the Jesus Film in my people's language before I died. And today I have!" Adelon said. By God's grace, within months of getting out of jail Adelon found out the translation of the Bible into his language was funded and he immediately began helping with translation.
Hearing those words, my own fear melted away and I felt humbled. This man did not only face fear - he had endured beatings, the loss of all he owned, years in jail, and yet did not hesitate to lead the few believers in his community.
"We promise you, on behalf of my people, starting tomorrow, we will take this to our villages and we will make sure our people hear the gospel," Adelon vowed. The next day the Ethiopian team tried to contact him... and he was gone! Off taking the film to his people!
Here is one piece I don't want you to miss. Adelon did not take film showing equipment. He took his phone and an SD card. This is a community where most homes cannot be reached by roads. But thanks to your partnership in the gospel, Adelon could take the Gospel of Luke in the form of the Jesus Film on foot and into homes across his community where he can pass the film from his phone to others.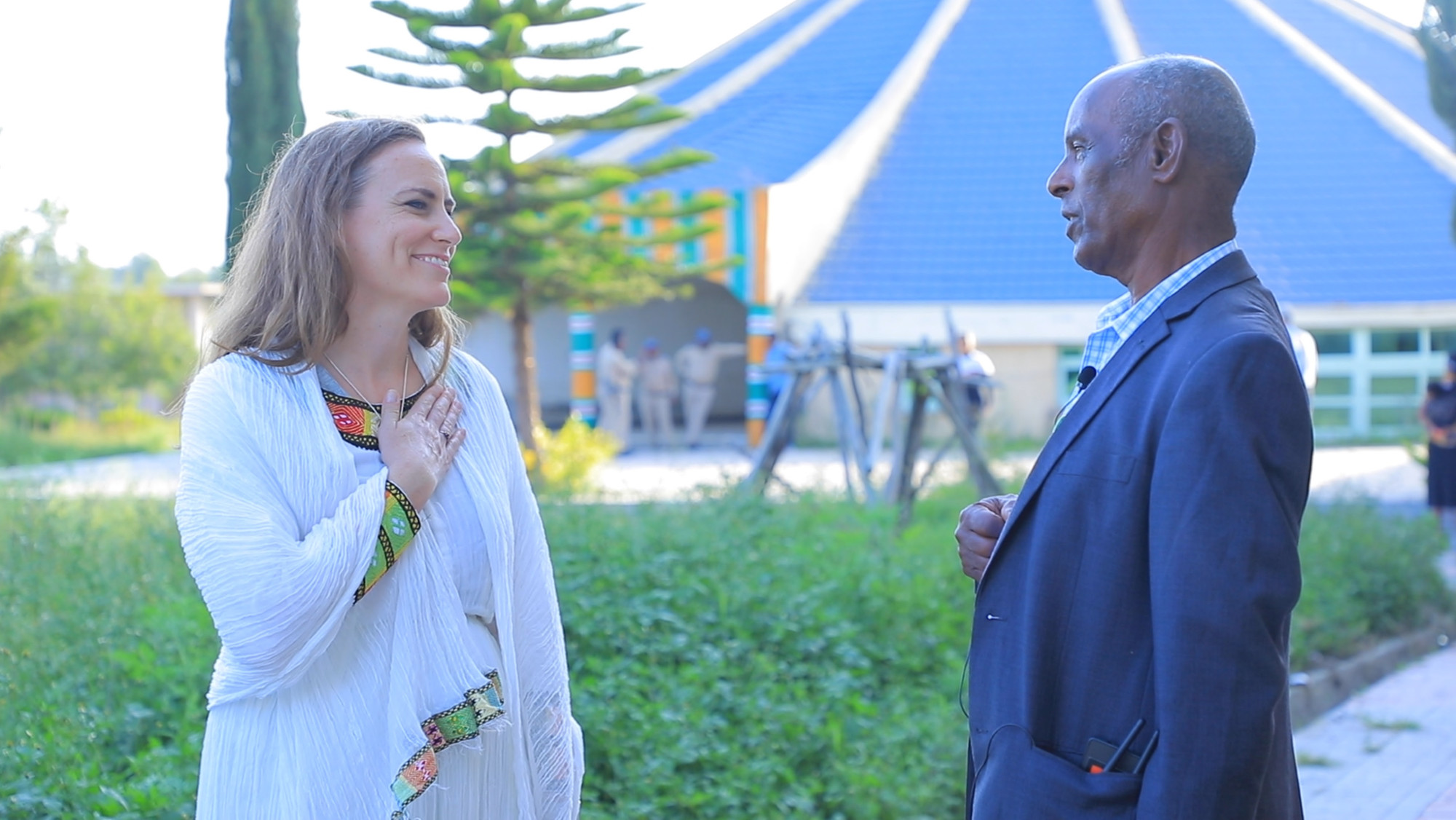 The original plan was to join the people of the community in watching the Jesus film out in the open air. As the sun set, however, storm clouds rolled in. Some of our team sat in the busy, praying that the Lord might stop the rain so that the premiere could go on as planned. At the same time, we prayed that God's will would be done and most of all that His message would go forth and change hearts and lives. Pelting rain slowed, then stopped. We waited. And wondered. Not everyone in our team was back on the bus at this point. Tobin was recording interviews; communications were happening between Jesus film team members. Darkness fell, and a decision was made. Though the rain had stopped, equipment had malfunctioned, forcing the premiere in this village to be postponed.
However, the language premiere in the other village was still a go! Their film had been paused when the rain came, but they were able to restart it. So we had the opportunity to go to that showing, a "two-for-one," as Dean observed, allowing us the privilege to participate in two different community events. This was indeed a blessing for us, but more importantly, it was encouraging to the local believers, who were bolstered by the fact that we would come to support them despite the burning of a nearby church just two days before.
It was a bit of a drive to the other premiere, but we quietly joined those in attendance and watched from the triumphal entry through the end of the film. The reality of the gospel message - Jesus's great love for us and willingness to die in our place - is powerful as you watch events unfold on the screen. How much more powerful when you hear and understand the message in your heart language!
The hotel we stayed in that night was very close to this showing. We arrived and had dinner around 10pm. Ironically, though we were in a much more remote location, I had strong enough access to wi-fi that I was able to FaceTime Ted and the kids and share some of the day's incredible events! Granted, the hotel lost power for a time, water pressure in the shower was nonexistent, and I smashed a number of bugs I tried to forget about before going to sleep, but hey, lol. It really was a nice hotel. (Dean took this photo in daylight next morning.)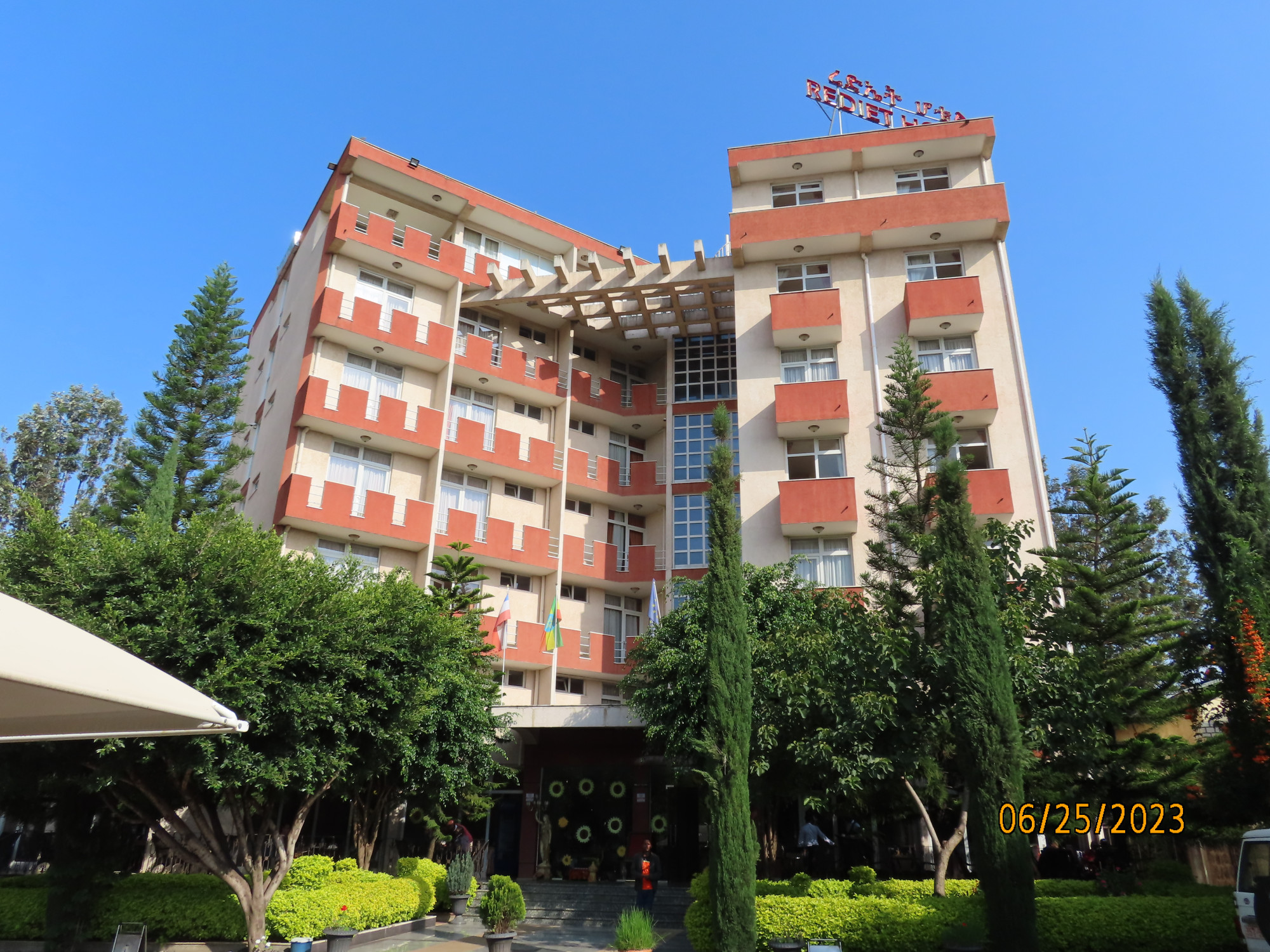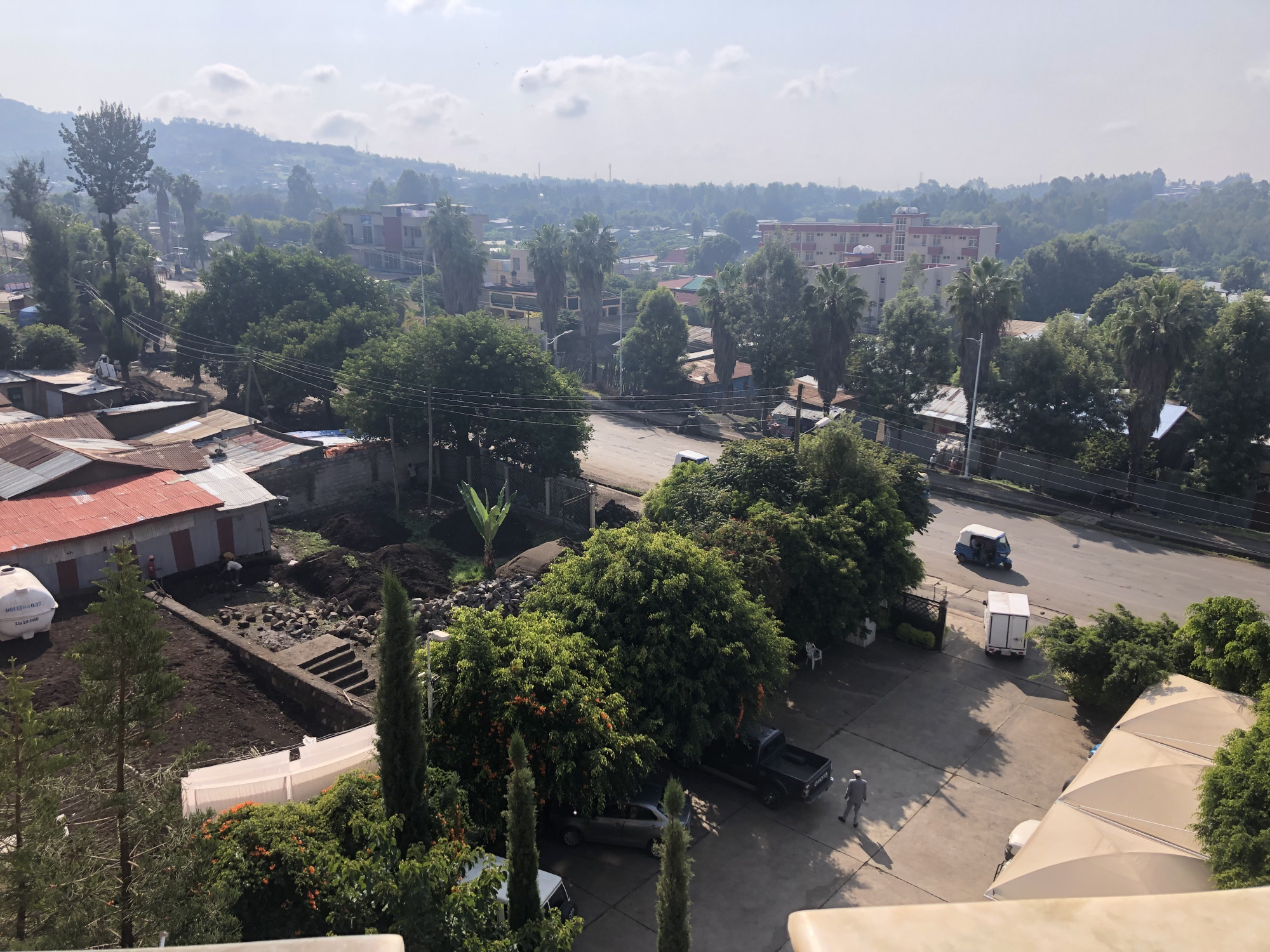 View from my window when I woke up
What a privilege to be an observer and participant in the events of this day. What a blessing to lift up our brothers and sisters in Christ in prayer. How humbling to be in the presence of those who have given their lives to spreading the gospel.
I will hold these memories in my heart for a long, long time.