Sep 11, 2021 03:42 PM Central
Beverly Jacobson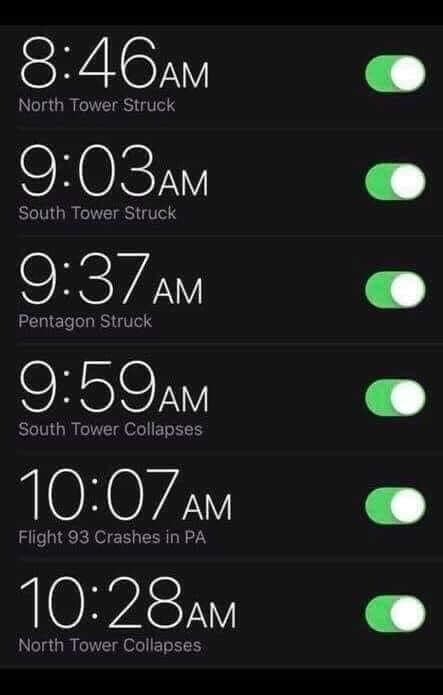 I set alarms on my phone so I could pause, reflect, remember, and pray today, the morning of September 11, 2021, twenty years after the most atrocious attack on U.S. soil. During most of that time span I was on a walk around our neighborhood, and the alarms seemed out of place on the otherwise peaceful trails. A clear blue sky with hardly a breeze made for a warm morning here in Colorado, but as I walked, all I could see were images from my memories of that morning two decades ago...
The basket underneath the stroller I pushed held the items I had purchased at the BX on base at Wright-Patterson AFB in Dayton, Ohio. My 11-month-old sat patiently in her seat while I listened in stunned silence with the other customers in line to check out at the commissary: the televisions suspended above the registers showed images of an airplane crashing into the North Tower. As we watched in horror, the South Tower was struck, and an elderly lady in front of me exclaimed loudly about the "pilot's mistake." Listening more closely to the commentary coming from the TVs, I couldn't help but correct her. "Ma'am, I don't think it was a mistake...they're saying the planes were hijacked."
I hurried back to our temporary lodging facility, the last day we were to spend in the TLF, since we were to move into our newly-purchased home the next day. I didn't know what to do other than turn on the news and wait by the phone for word from my husband, who surely knew more than I did about what was going on. He was, after all, an active duty Air Force officer with a security clearance.
The phone rang as family members reached out to see if we were okay. Yes...but no...I didn't know how to answer this question, for life as we knew it was surely over. The world seemed to be coming to an end, and I was never so relieved to have my husband home as I was that day when he rushed through the door to hug me and our daughter.
We couldn't have known then what the next 20 years would bring with regard to our family and our connections with these events:
Deployments to NORAD, Central Command, and Kandahar
A military career lasting over 22 years
Eight more children, 2 born while Daddy was on deployment
Advances...and setbacks...in the "War on Terror"
And where are we now?? The unity we felt as a nation in the days and weeks following the attacks...GONE. We are more deeply divided than I've ever seen in my lifetime, possibly more divided even than we were in the days of the Civil War or Civil Rights Movement. We can't even agree on basic things, foundational assumptions we used to take for granted. It's "us" and "them," and there are any number of issues to be on one side or the other:
People who think abortion is a right vs. people who think abortion kills an innocent child.
People who think men and women can choose what gender to be vs. people who believe we are born with either XX or XY chromosomes and that's that.
People who think vaccines should be mandated vs. people who believe in bodily autonomy and medical choice.
People who think everyone can have his/her own truth vs. people who believe truth is absolute, for all people in all places at all times.
People who think the USA is a horrible country in need of a complete overhaul vs. people who know it isn't perfect but believe its unique foundation set us up for long-lasting growth and leadership, even as we seek to make its ideals more accessible...so we can truly have "liberty and justice for all."
I don't know what I expected our country to look like 20 years after the terrorist attacks, but this is a far cry from whatever I would have envisioned. My heart is heavy for the USA and its citizens. Yet my hope is not in our nation or unified citizenry or political leadership. My hope is in Christ alone who reigns now and forever. One day His will truly will be done on earth as it is in heaven.
"But our citizenship is in heaven, and from it we await a Savior, the Lord Jesus Christ." - Philippians 3:20
Where is your citizenship? Oh, friend, I hope ultimately it's in heaven!
"Whom have I in heaven but you? And there is nothing on earth that I desire besides you. My flesh and my heart may fail, but God is the strength of my heart and my portion forever." - Psalm 73:25-26