Jun 24, 2020 11:44 AM Central
Beverly Jacobson
Yesterday I finally had the chance to pull out some supplies to make something I've been "meaning to" make for awhile: my homemade deodorant! I had put it off for awhile because it wasn't super urgent, and we've had JUST a bit of a full schedule with our oldest daughter getting married on our property on June 13, followed by oldest son's graduation ceremony June 20, not to mention the normal bustle of life with a large family.
So when our nurse mentioned yesterday that we were just about out of the Seedlings Diaper Rash Cream (we get this from Young Living and LOVE it), I decided to do double duty with the DIY efforts since some ingredients were similar.
Make no mistake: the Seedlings cream is going on my Essential Rewards order, which will process the first of July! But in the meantime, due to some GI issues, our little girl needs some bum protection!
Sometimes I've simply used coconut oil with a few drops of oil mixed in, but since I wanted to be sure the cream wouldn't soak into the skin QUITE so fast, I added some beeswax to my mixture. I put boiling water in the larger glass measuring cup to start the melting process. (I don't have a double boiler, but if I did, that would be my preferred method here!)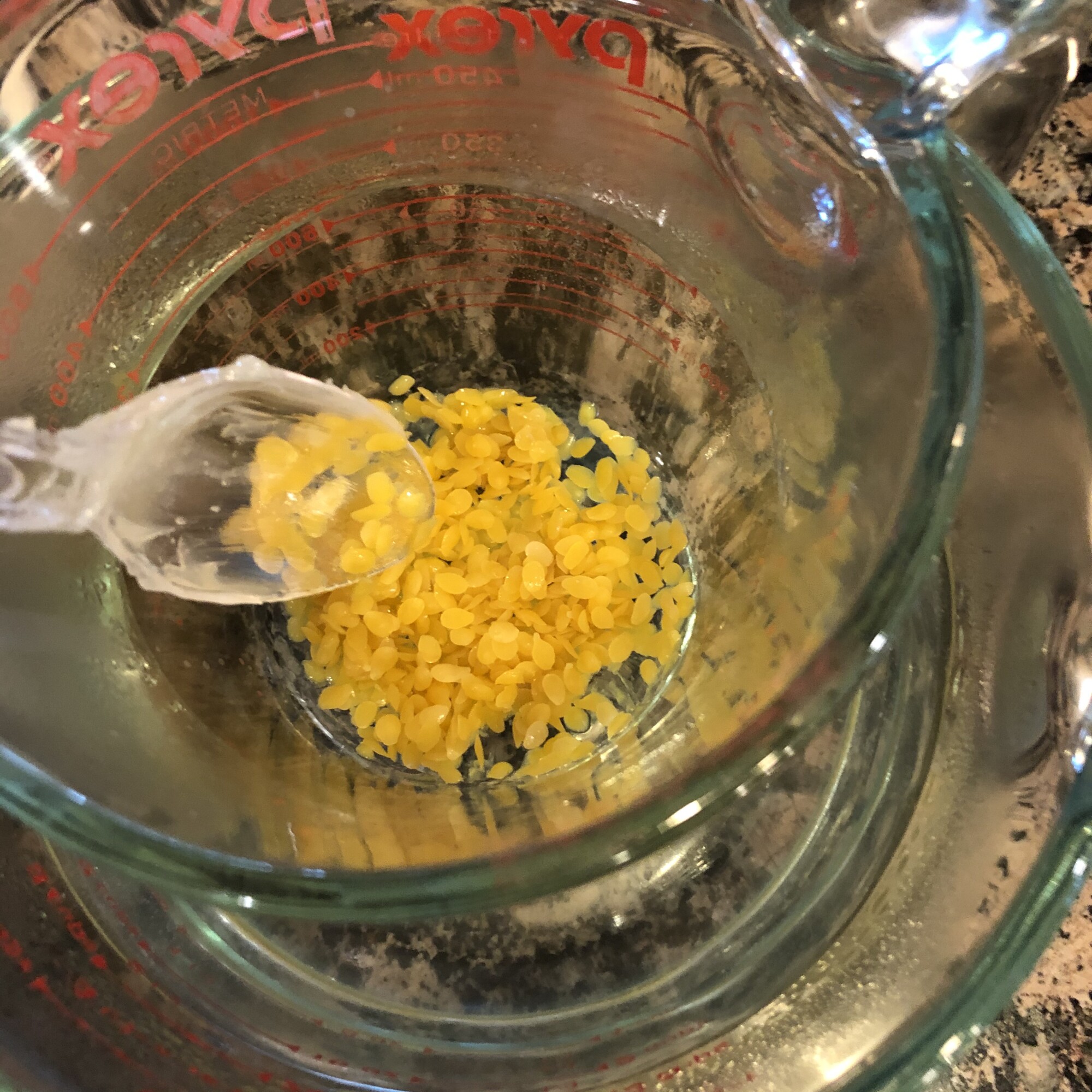 Once the beeswax is completely melted, I add melted coconut oil plus shea butter. My ratio here is 1 tablespoon of beeswax to 2-3 tablespoons each of coconut oil and shea butter.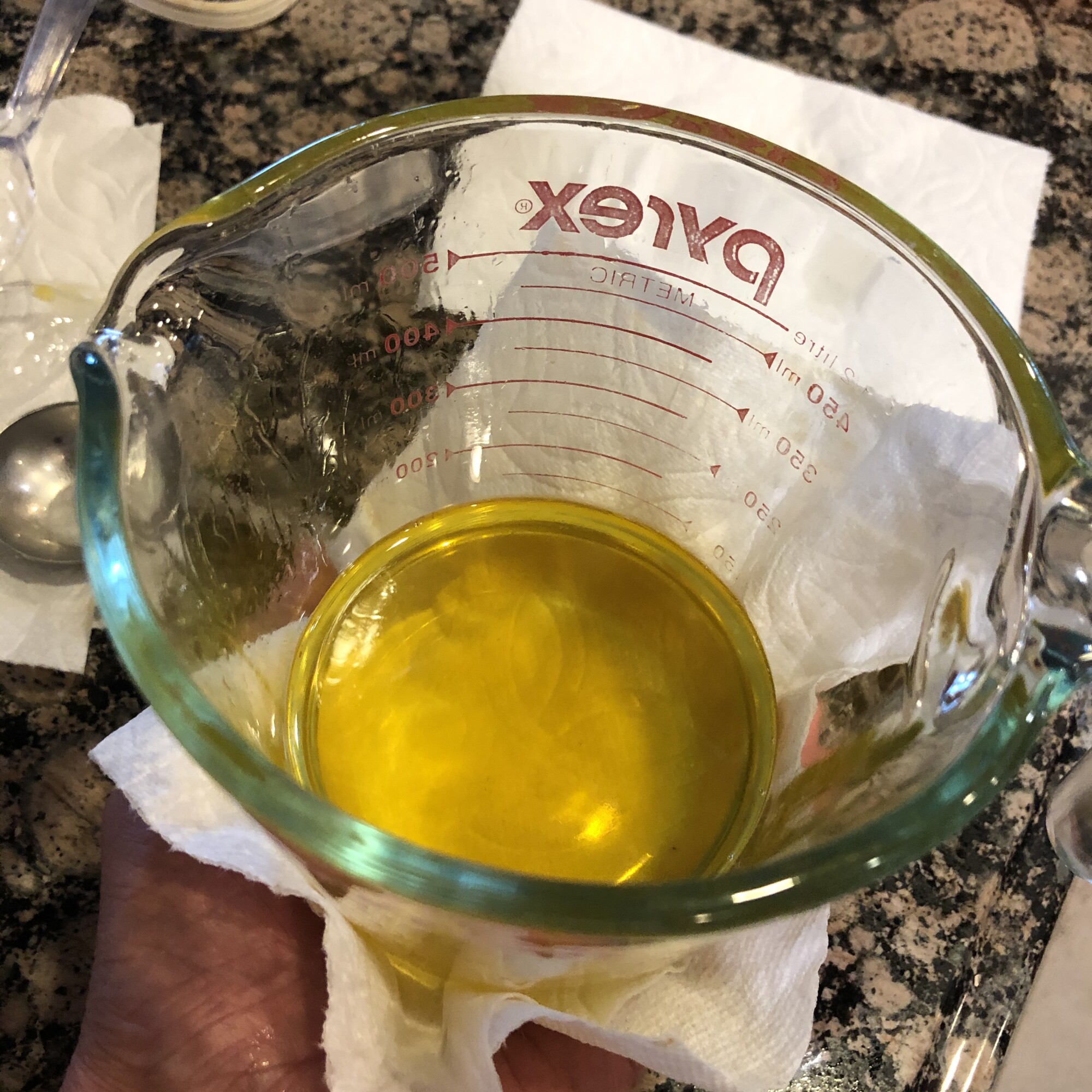 Now everything is completely melted and mixed together--but the mixture is too hot to add essential oils. (You'd retain the nice aromas, but the therapeutic properties would be gone! No good!) So into the refrigerator it goes until it's more of a frosting consistency. At this point, you can add whatever oils you like: I put in equal amounts of Young Living's tea tree, frankincense, and lavender oils. (Oh dear...I honestly can't remember if it was 5 or 10 drops of each...) This cute glass jar plus a wooden spoon now holds the finished product for use on Verity's little tush!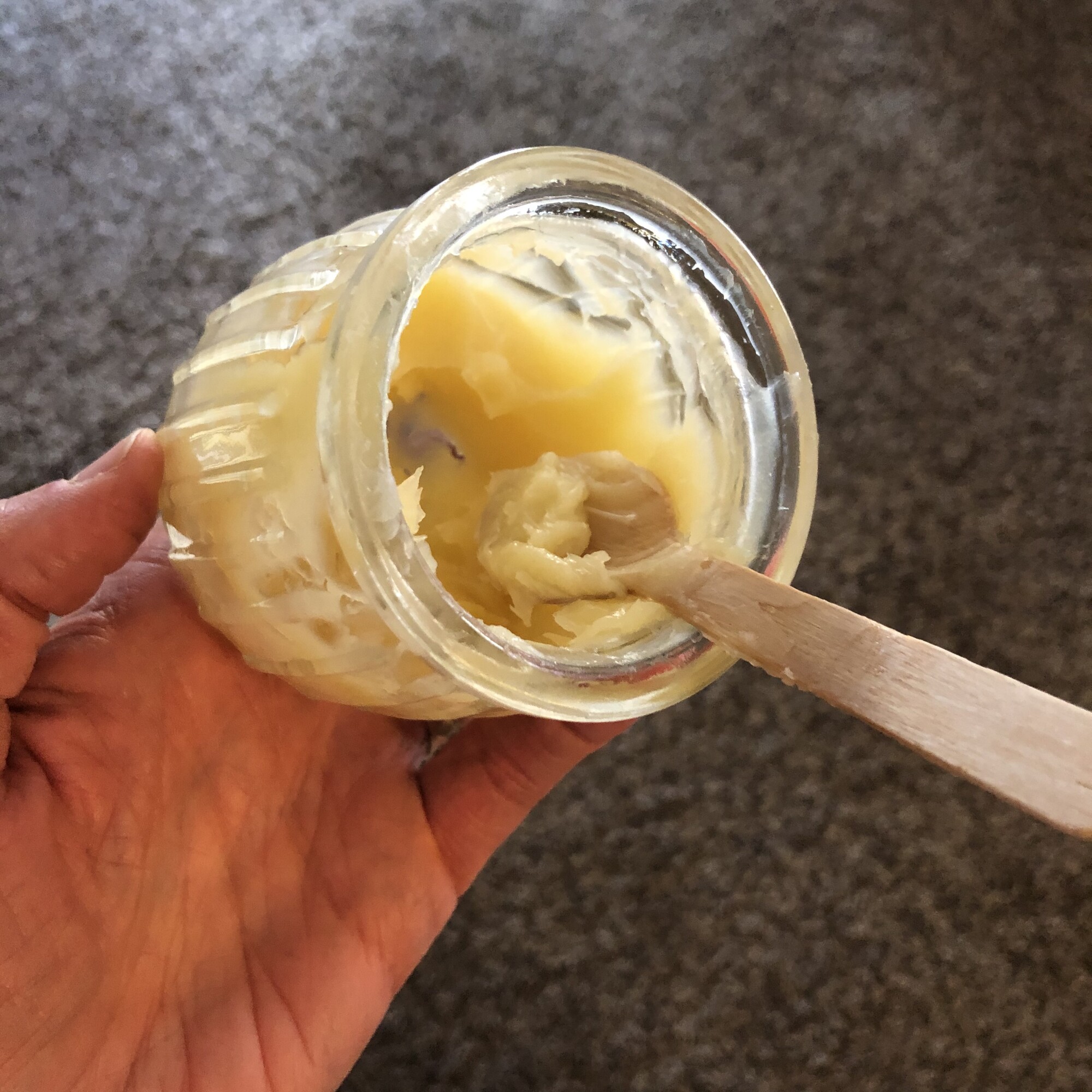 Now...on to the deodorant. First of all...I have to be honest, I haven't found ANYTHING that really compares to this homemade deodorant I started making 4-5 years ago. (I can't remember whether it was summer of 2015 or 2016 that I first tried it.) I've tried clean versions (NO ALUMINUM) from various places, and I'm not a fan of any of them. I found the Young Living Thieves toothpaste, of all things, works GREAT as a deodorant, actually, and since I'm a huge fan of the toothpaste, I love that it does double duty for me, lol. But...I still don't think it compares to this homemade version that keeps me smelling non-earthy (!!!!) into the second day after application! Now that summer is well and truly upon us, it was time to whip up another batch!
The first couple of steps are the same as above, only I don't use shea butter in my deodorant. So: melt the beeswax and then add coconut oil. (Written recipe follows all the photos!) I did a double batch, so 2 Tablespoons of beeswax and a 1/2 cup of coconut oil.
Getting the right consistency is key--again, you can't have the base mixture too hot or you'll kill the needed constituents in the essential oils. A frosting-like consistency is perfect, and I like using one beater to really whip everything up, since, as you'll see, we have other ingredients that make mixing with a spoon (like I did for the butt cream) a rather ineffective option for this project.
Now for the most important part...the essential oils! My very, very first batch of this deodorant used only coconut oil (no beeswax) and lavender + Melrose oils. It was fine, worked great. But I felt like I smelled like a rosemary bush! So my next batch included Purification oil blend, and I liked the way that smelled much better. And THEN I learned about Manuka, and I decided that MUST be an ingredient in homemade deodorant!! (And if you aren't familiar with the properties of these oils, contact me, because we really must get my favorite reference guide into your hands!)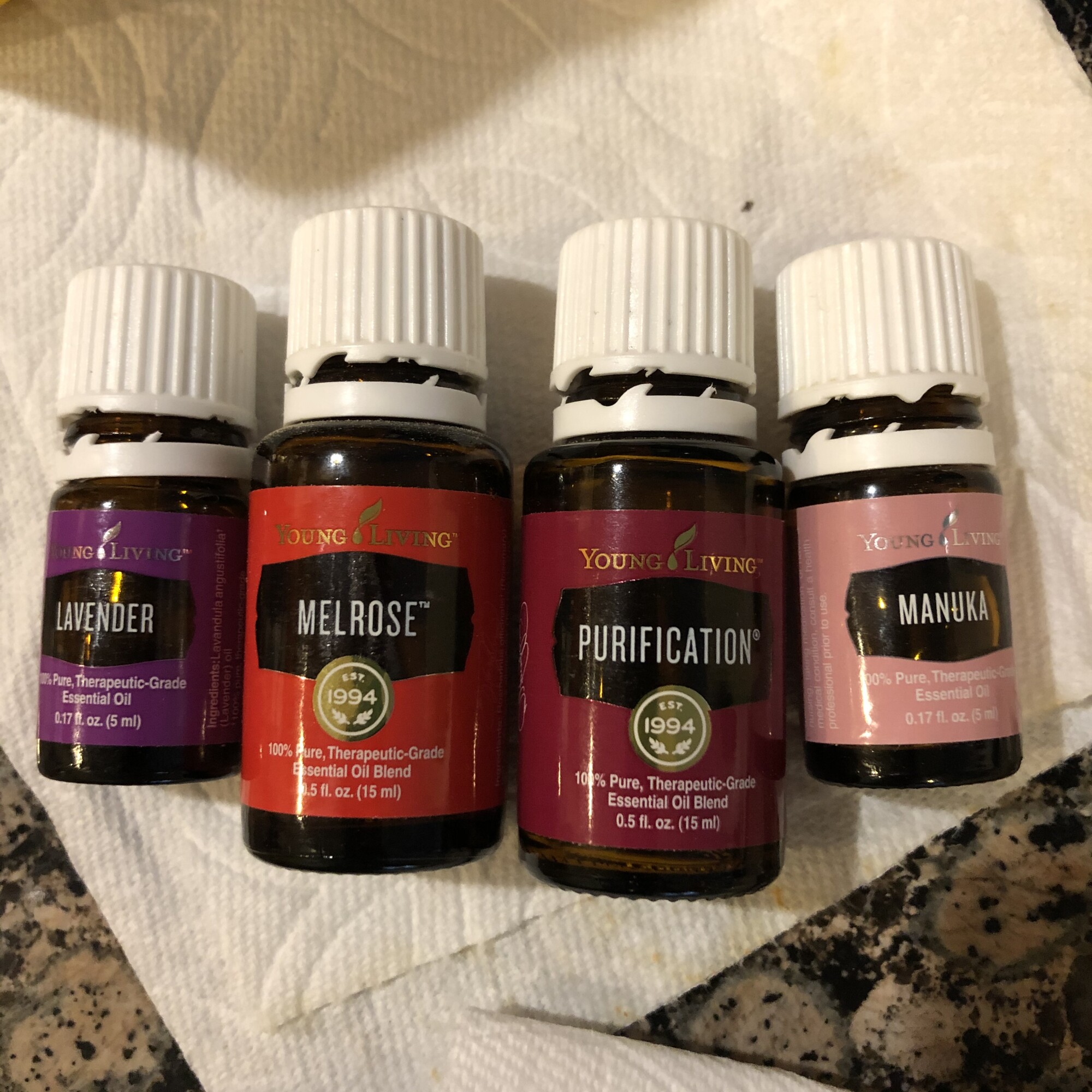 Now for the powdery stuff: you need to add 1/4 cup of baking soda (1/2 cup for me since I doubled the recipe) and 1/4 cup of GMO-free cornstarch OR arrowroot powder (1/2 cup if doubling). Get a beater and whip it all together like crazy! (Side note: I totally forgot to open a couple of Life 9 capsules to add to this batch...but that's an idea to get more probiotics into your body!)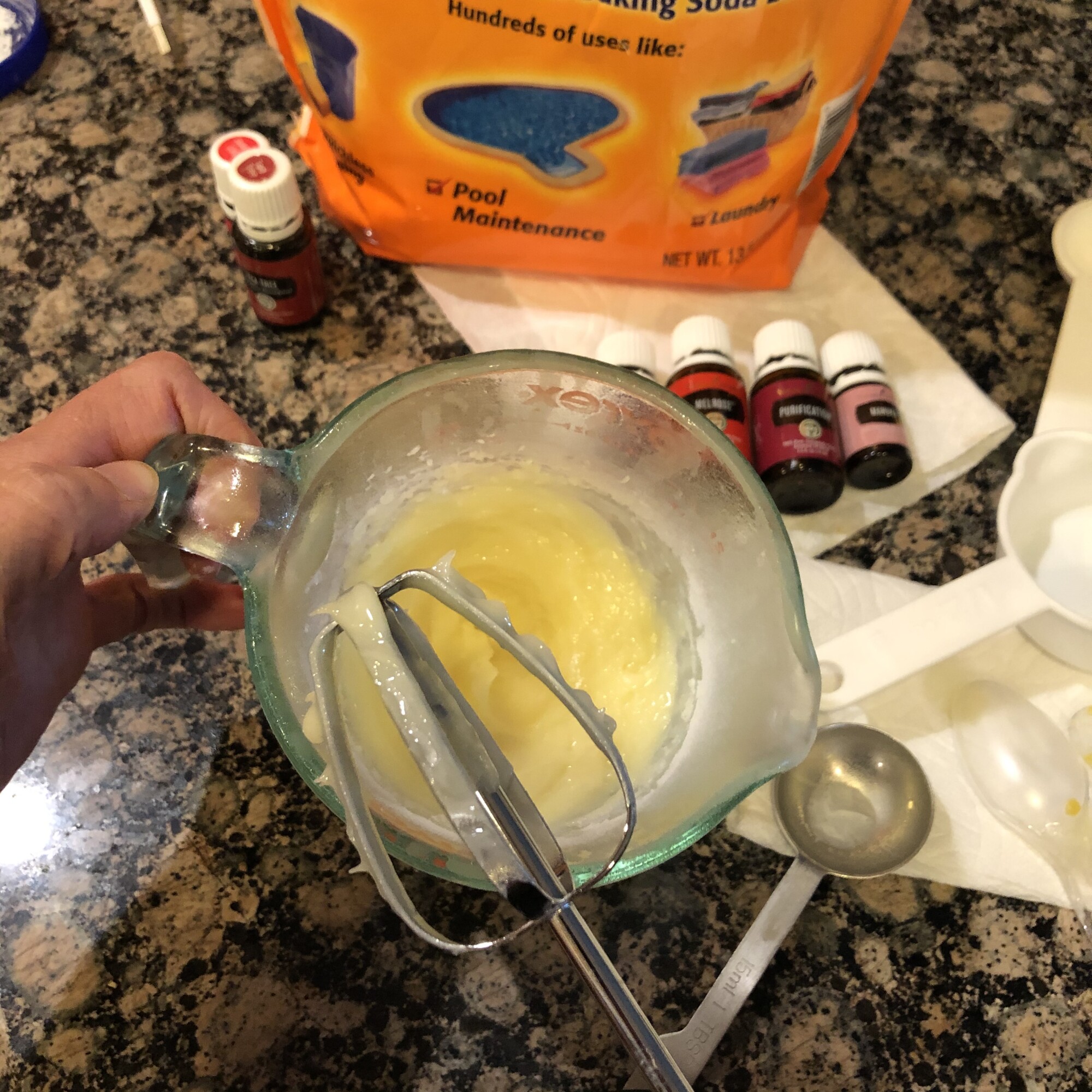 My double batch filled 3 actual deodorant containers plus some in a jar (I couldn't find another empty deodorant container--thought I had one). I put them in the fridge to set for a bit, and now they are ready to go!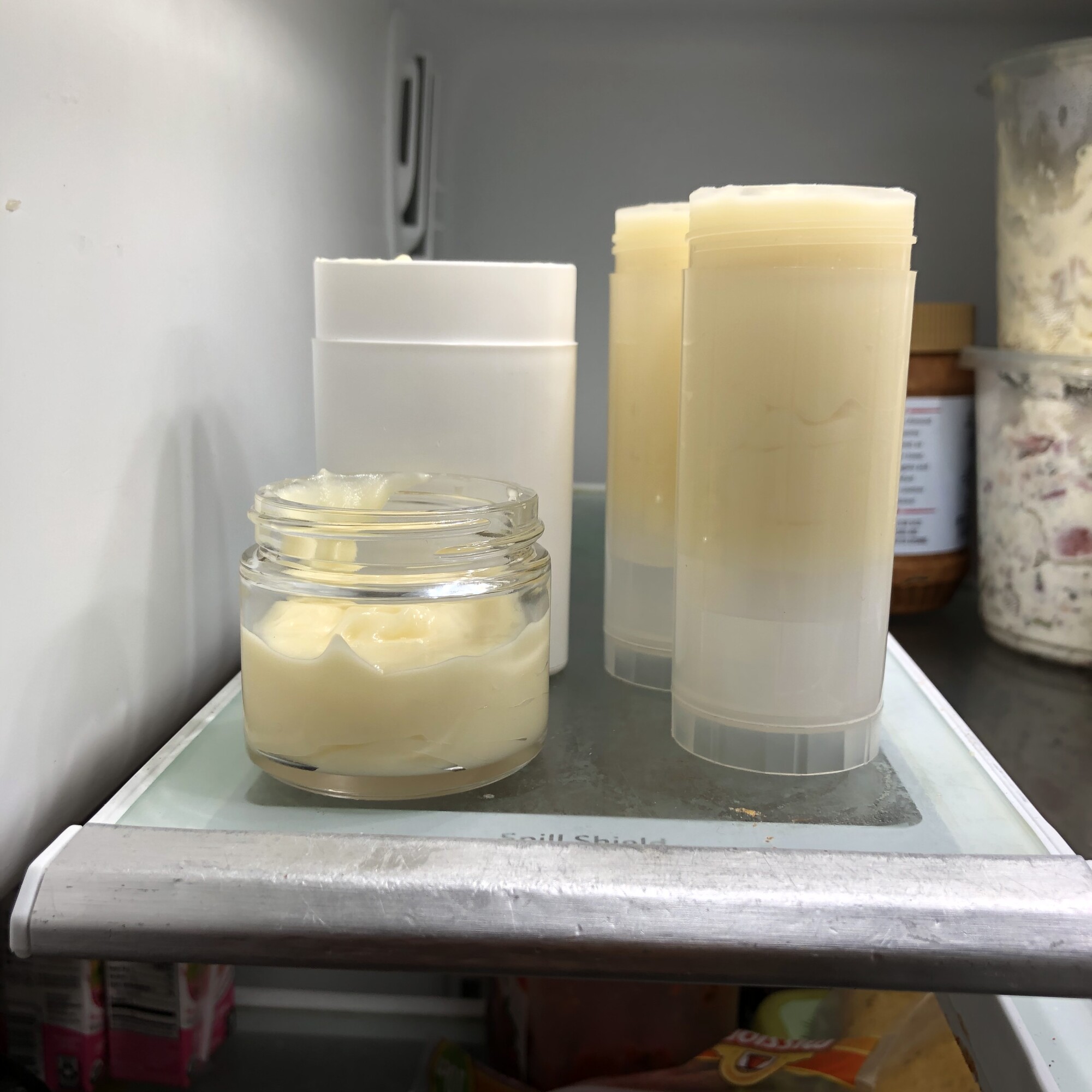 ---
1 Tablespoon beeswax, melted
2-3 Tablespoons each coconut oil and shea butter, melted
8-10 drops each Young Living Tea Tree, Frankincense, and Lavender essential oils
After melting beeswax and oils, cool mixture until soft but not runny. Add essential oils and mix well. Store in a glass container with lid and apply as needed.
---
DIY DEODORANT
1 Tablespoon beeswax, melted
3 Tablespoons coconut oil, melted
1/4 cup baking soda (skimp a bit on this if you have sensitive skin)
1/4 cup arrowroot powder or non-GMO cornstarch
10 drops each Young Living Lavender, Melrose, Purification, and Manuka essential oils
Life 9 capsule (optional)
After melting beeswax and coconut oil, cool mixture until it has a frosting-like consistency. Whip in essential oils with a beater, then add dry ingredients a bit at a time, whipping until completely mixed. Spoon into deodorant containers or jars. Chill until firm.
---
Have you made either of these DIY projects? If so, how does your recipe compare? What have you found effective? I always love to hear new ideas!